Botogen, Power of Chem
Botogen -a registered trademark of Bar Automotive Trade Limited Company- has become one of the most strong and trusted brands in the Turkey, Europe and Turkic countries in manufacturing and exporting, automotive aerosols, additives, car cares, hygiene products and engine oils. And growing each day, reaching its local and export targets.
Our production of hygiene products first started with the most demanded Air Conditioner Disinfectant. Nano Silver Ambient Hygiene Spray, which we developed with our innovative chemists, has become an effective and powerful aerosol that will make a worldwide impact. As a result of the positive feedback from our consumers, we accelerated our R&D activities in this product category as well.
It's not just liquid, combine of chemistry and technology.Botogen provides all the products the world needs for every driver and every industry.
Botogen products, with their high quality and exceptional performance, have rapidly increased their awareness in the markets of European and Turkic countries, especially in Turkey. This success comes from the formulations of Botogen products, their continuous development, as well as their product processes.
Botogen products are not put on the market as soon as they are formulated. It is subject to strict controls in every period such as production stage and usage periods.
The products are therefore checked during formulation, blending and packaging, as well as regularly sampled and analyzed at all stages of their distribution (storage, distribution, point of sale).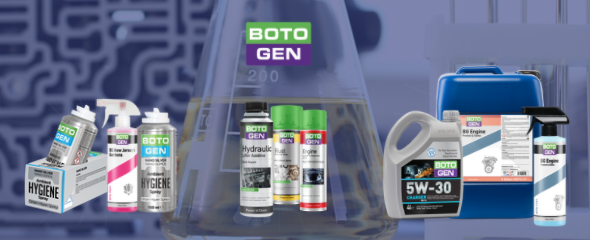 Certified Quality Management Systems
The production plants where the Botogen brand products are manufactured meet the strict requirements of the ISO 9001:2000 – 14001:2004 – 22000:2005 and OHSAS 18001:2007 standards. The entire manufacturing process is monitored based on quality-control procedures – from the selection of materials, to the semi-finished products, the finished products, and delivery to the warehouse.
Confidence in and Demands on Partners
Thanks to relations of confidence built over time, Botogen has completed this organisation by favouring partnership ties with suppliers and service providers who share their experiences and know-how within the framework of specific projects or more simply on a daily basis.
The relations the Botogen has with its partners are long-term ones allowing the teams to focus on the main points: solutions and added value provided to product end-users.